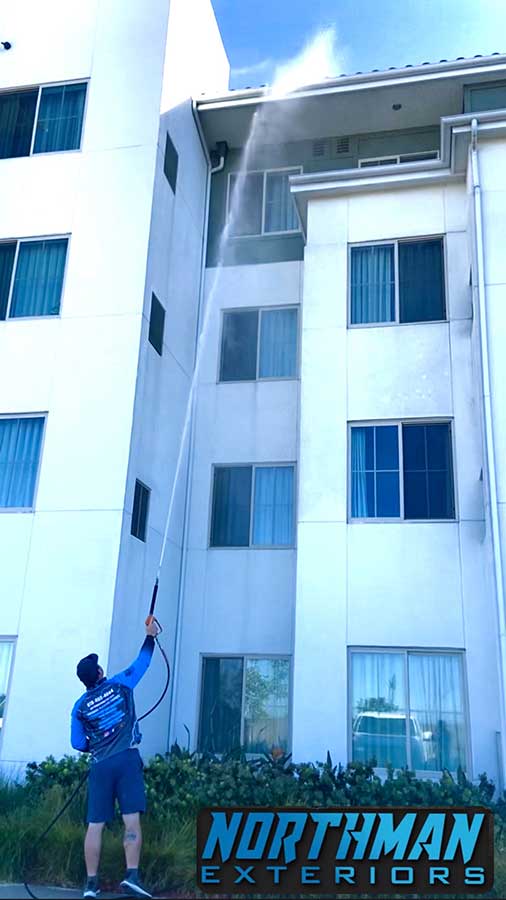 Surf's up in beautiful San Diego! If you're looking for building washing, you've come to the right place. We've got the solution to all the sun and salty wind we humans love, but that is harsh on building surfaces. Say goodbye to dust, pollen, and mildew when we use our expert techniques on jobs both big and small. Want to know more? Call Northman Exteriors today for a free consultation.
What's included in our building washing? Typically, it means cleaning the siding, windows, and gutters. It can also include the roof. If you want to expand the area cleaned, just ask! We can clean the driveway, sidewalk, and fence as well. For more information about what's included in our San Diego building washing, call us today.
Owning or managing a commercial building is a busy enough job. Why spend valuable time cleaning it when you can leave it to our pressure washing experts. Here are just a few of the many types of properties that can benefit from our building washing:
Bars and restaurants: Get your building in tip-top shape in time for opening.
Office buildings: Make your building the envy of the block.
Apartment buildings: Prospective residents will love the way your building looks.
Convenience stores: In addition to building washing, ask about our parking lot cleaning.
No matter what type of business you own, Northman Exteriors are the pressure washing pros for you. If you'd like a free quote, call us or message us via our Facebook page.
We offer lots of other services besides building washing, including graffiti removal. If you're revitalizing an older property, depend on us to get rid of any graffiti. It may prove to be stubborn in places, but you'll be surprised at how much better things will look. The key to successful graffiti removal is timing, so try to get it cleaned as soon as you notice it. Not only does this attack the stain before it sets in too much, but it also makes the area less of a target for future graffiti.
Another highly rated service is driveway cleaning. This includes cleaning commercial parking lots, which makes them look safer and more usable. We'll eliminate oil spots, scuff marks, and bird debris from parking stops, light poles, and other areas. Cleaning also restores color to the lane markers and parking dividers on the asphalt. If you want to give your guests and customers a first-class place to drive and park, ask us today for a free quote.
As a customer-first company, Northman Exteriors believes in always going the extra mile to help San Diego business owners get the look they've always wanted for their storefronts and offices. Whether you need a complete cleaning or just a small touch up, we've got the skills and expertise to wash almost any surface. If you're interested in regularly scheduled service to stay ahead of grime and mold, let us know, and we'll help you determine what time frame works best. For quality results and excellent customer service, call Northman Exteriors today. You'll be glad you did.
---
Latest Projects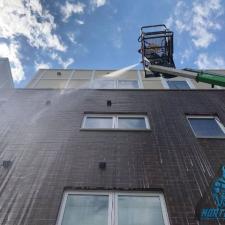 Top-rated Commercial Pressure Washing in San Diego, California! You may think that your Building's dirty walls or concrete is beyond saving, with the only solution being a complete replacement. Think again! Our professional building washing Services will have your property looking like new again, for just a […]
Our Latest

Articles & Tips
Why You Need to Get Your Solar Panels Cleaned

Just like a car or a boat that's well maintained and serviced regularly, our windows need to be clear and clean as well. The same goes for the way we approach solar panels. When we maintain our solar panels in excellent condition, they'll perform at their […]

How To Clean Stucco

Stucco is a classic mainstay of San Diego architecture for homes and businesses. It's a strong, versatile material that holds up well with proper maintenance. If you'd like to get your stucco back to peak form, keep reading for how to clean stucco. Pressure washing is the […]