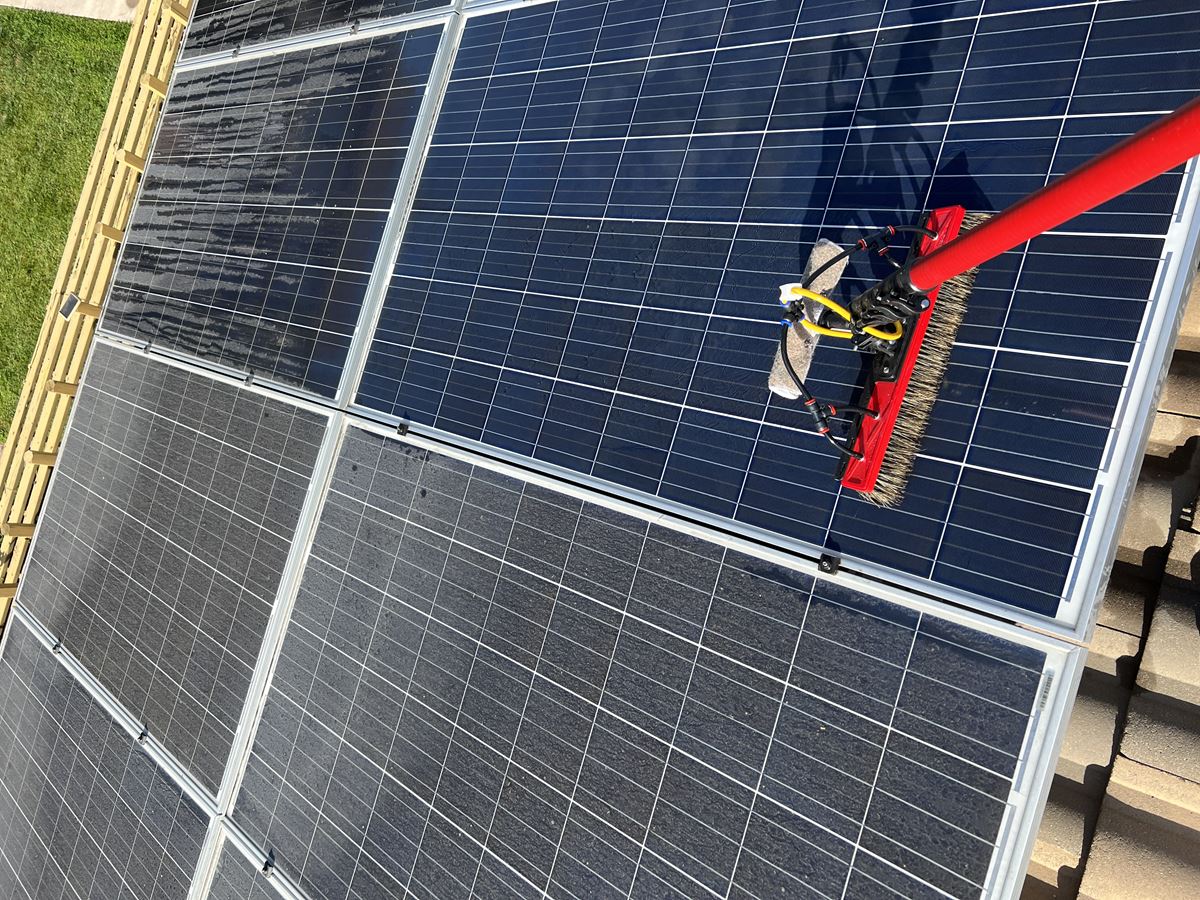 Green energy is great, but you don't want your solar panels to be covered in green grime. For solar panel cleaning for your San Diego business, the pressure washing pros at Northman Exteriors will remove the green from your solar panels and leave your neighbors green with envy.
Your solar panels soak up the vibrant California sunshine, providing clean energy to keep your home cool and comfortable. Keep your solar energy system operating at maximum efficiency with solar panel cleaning from the specialists at Northman Exteriors. Making solar panel cleaning a part of your regular house washing maintenance routine. Keeping your solar panels clean offers a number of benefits, such as:
Increasing energy absorption
Increasing energy output
Enhancing aesthetic appeal
Elevating safety and eliminating potential damage
Your solar panels are comprised of cells that convert sunlight into electricity. Keeping your solar panels free of animal and bird droppings, leaves, tree sap, and dirt allows for sunlight to collect at a higher level. Solar panels are a big investment, so keeping your investment well maintained will extend the useful life of your solar panels and keep them functioning correctly for years to come. Give us a call today at 619-408-4064 and let us show you what a difference solar panel cleaning can make for your San Diego home.
Give the solar panel cleaning experts at Northman Exteriors a call today to give your solar panels a fresh shine and maximum operating efficiency!
Add Solar Panel Cleaning To Your Roof Washing Maintenance Routine
Northman Exteriors uses the soft washing method for solar panel cleaning and roof washing services. Soft washing is the gentle companion to its high-pressure counterpart, using the power of biodegradable cleaning solutions to saturate dirt, grime, and organic invaders and gently remove them from your more delicate exterior surfaces. Soft washing is a great option for cleaning solar panels, roofing materials, glass surfaces, screened enclosures, and other exterior surfaces that may be too fragile for high-pressure cleaning. Your pressure washing professional at Northman Exteriors will evaluate your exterior cleaning project and provide you with customized applications to meet your specific needs.
With twenty years of customer service experience and insider knowledge of the real estate industry, the pros at Northman Exteriors are ready to provide you with quality workmanship and exceptional customer service. We can take your San Diego home, business, or property listing to a whole new level of curb appeal with our full line of residential and commercial pressure washing and soft washing services, which include:
House washing and exterior building cleaning
Driveway, sidewalk, and walkway washing
Gutter cleaning and brightening
Roof washing
Fence cleaning
Porch, patio, and deck washing
We have extensive experience with high-end finishes and luxury properties and will give your property the same care and professional expertise. Don't renovate your San Diego home, business, or property listing. Reinvigorate it with professional pressure washing and soft washing services from the leader in exterior cleaning, Northman Exteriors. Call us today to schedule your free consultation at 619-408-4064.
Our Latest

Articles & Tips
Why You Need to Get Your Solar Panels Cleaned

Just like a car or a boat that's well maintained and serviced regularly, our windows need to be clear and clean as well. The same goes for the way we approach solar panels. When we maintain our solar panels in excellent condition, they'll perform at their […]

How To Clean Stucco

Stucco is a classic mainstay of San Diego architecture for homes and businesses. It's a strong, versatile material that holds up well with proper maintenance. If you'd like to get your stucco back to peak form, keep reading for how to clean stucco. Pressure washing is the […]
Contact Us
If you are looking for commercial solar panel cleaning in the San Diego area, then please call 619-408-4064 or complete our online request form.