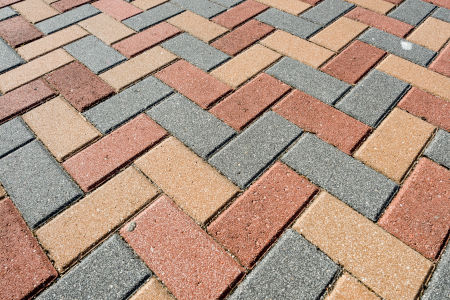 Cleaning your outdoor space in San Diego? Rely on Northman Exteriors for paver cleaning you'll love! We're the experts at cleaning off grease spots, oil stains, and more from your paver walkways, driveways, and patios. Whether you own a home or business, clean pavers mean better curb appeal and a welcoming sight for guests and customers. If you'd like a free consultation, call us today! You'll be glad you did.
The secret to paver cleaning is reliable pressure washing. Nothing else gets out impurities as well as it does, so make sure you hire the best for your pavers and every other exterior you want cleaned. At Northman Exteriors, we always put the customer first, and that means going above and beyond to get your pavers clean exactly the way you want. For quality results in a timely manner, call us today to get started.
Paver Sealing Keeps Your Recently Cleaned Pavers Looking Great For Longer
Want to really protect your surface for the long haul? Have your San Diego paver cleaning followed by our sealing service! Sealing your pavers protects the hardscape from stains, insects, and debris. It also keeps water from seeping into the pores. For paver walkways and other surfaces that dazzle for years, ask about Northman Exteriors's paver sealing today!
Did you know: Unlike in years past, nowadays, you don't have to let new pavers cure before applying sealant, as modern sealants are breathable and can be used immediately. You should still do a preliminary cleaning and resand new pavers. If the pavers are old, cleaning will restore the color and prepare it for sealing. Removing old layers of sealant requires particular solvents, so be sure to reach out to Northman Exteriors and let their pros handle the job!
Since we're experts at pressure washing as well as paver sealing, you'll be happy to know we offer a whole range of exterior cleaning services. One of our most popular choices is driveway cleaning. There are lots of benefits of it for your home or business, including:
Total clean: Oil stains in your home's driveway don't have to be a fact of life. We'll wash them away to leave a gleaming driveway.
Protecting your investment: We'll wash away harmful vegetation before it has a chance to damage your driveway. A clean driveway also boosts curb appeal.
Versatility: Got other parts of your home or business you need to clean? We can do those in the same session.
Plus, when you go with Northman Exteriors, you'll have the peace of mind knowing you've got the top-rated contractor on the job. Own or manage a commercial parking lot? We can clean those, too. We'll get scuff marks and other debris off your parking curbs, fixture bases, and other sections. Call us today to get started.
At Northman Exteriors, nothing's more important than helping our San Diego community stay clean and beautiful. That's why we always put 100% into every job we do. Whether it's restoring the classic look of a hidden masterpiece or maintaining a standard of excellence for property that's already well-taken care of, we do what it takes to make you happy. For paver cleaning and sealing, driveway cleaning, commercial parking lot cleaning, and more call Northman Exteriors today for a free quote!
Our Latest

Articles & Tips
Why You Need to Get Your Solar Panels Cleaned

Just like a car or a boat that's well maintained and serviced regularly, our windows need to be clear and clean as well. The same goes for the way we approach solar panels. When we maintain our solar panels in excellent condition, they'll perform at their […]

How To Clean Stucco

Stucco is a classic mainstay of San Diego architecture for homes and businesses. It's a strong, versatile material that holds up well with proper maintenance. If you'd like to get your stucco back to peak form, keep reading for how to clean stucco. Pressure washing is the […]
Contact Us
If you are looking for trustworthy paver cleaning and sealing professionals in the San Diego area, then please call 619-408-4064 or complete our online request form.