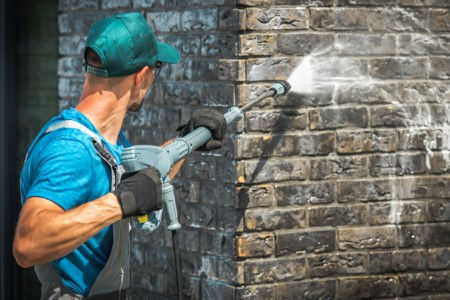 Are you looking for a way to beautify your home or business's facade? Call Northman Exteriors today for La Jolla pressure washing you can be proud of! There's nothing like a pressure washer for a thorough and environmentally friendly way to clean. It works great for roofs, driveways, soft washing windows, and more. Ready for a free consultation? Call us now!
Living in the "Jewel of the Sea" is as close to paradise as it gets! From amazing beaches to breathtaking views, it's no wonder people choose La Jolla to own a home or business. But despite the setting and nice weather, the elements can still wreak havoc on a home or business exteriors. Salty air and sun can batter siding, so keep things in peak form with pressure washing. You'll be amazed at what a difference it makes. Want to get an area clean and make sure it stays that way? Windows and high-traffic areas like sidewalks do great with bi-monthly cleaning. Call Northman Exteriors today for an estimate!
Restore the look of your home or business with La Jolla pressure washing by Northman Exteriors.
Pressure washing is the #1 way to keep your home or business in La Jolla looking its best. Here are just some of the services we offer:
Solar panel cleaning: We'll wash your solar panels, so they absorb the max amount of sunlight. Dust, debris, and other stains are soft washed away.
House washing: Want to get your whole building clean to really make an impact? Sign up for our house washing for a spectacular total clean.
Paver cleaning and sealing: Sealed pavers last longer, so call us to start them off right. If you have older pavers, cleaning will restore their color and prestige.
Storefront cleaning: Own or manage a business in La Jolla? We'll get the storefront clean in time for opening!
And much more. Got an idea for a cleaning project, but you're not sure if a pressure washer will work? Call us, and we'll discuss your options. Whether it's delicate or heavy-duty, Northman Exteriors is the contractor for you!
Ready to fall in love with your windows? Call us today for La Jolla window cleaning.
Clean windows boost curb appeal and make for a prettier view from the inside. There's no better way to clean windows in La Jolla than a soft wash by Northman Exteriors. The secret lies in the gentle soaking power of the environmentally friendly cleaner we apply to the window. After letting it work its magic, we easily rinse it away with water. The result? A dazzling window finish for your home or business. Call us today for an estimate!
Soft washing can be used for a number of other surfaces, including:
Asphalt shingles, clay tiles, and slate
Stucco siding
Porous pool decks
And any other delicate surface you want to clean without using pressure. It's easy to see why people choose soft wash and pressure washing for their many home and business exteriors. When it comes to picking a contractor, make sure to hire one who values your building's aesthetic as much as you do. Northman Exteriors works carefully and thoroughly to clean away stains while maintaining surface integrity. Need a one-time clean? You'll love the way your colors pop and windows gleam afterward. Want regular service, so dust and grime never have a chance to build up? We can do that, too. No matter what your pressure washing, soft washing, or paver sealing needs are in La Jolla, Northman Exteriors are the ones for you. Call us today!
Reviews & Testimonials on Northman Exteriors in La Jolla, CA
There are currently no reviews or testimonials, check back soon!
Our Latest

Articles & Tips
Why You Need to Get Your Solar Panels Cleaned

Just like a car or a boat that's well maintained and serviced regularly, our windows need to be clear and clean as well. The same goes for the way we approach solar panels. When we maintain our solar […]

How To Clean Stucco

Stucco is a classic mainstay of San Diego architecture for homes and businesses. It's a strong, versatile material that holds up well with proper maintenance. If you'd like to get your stucco back to […]