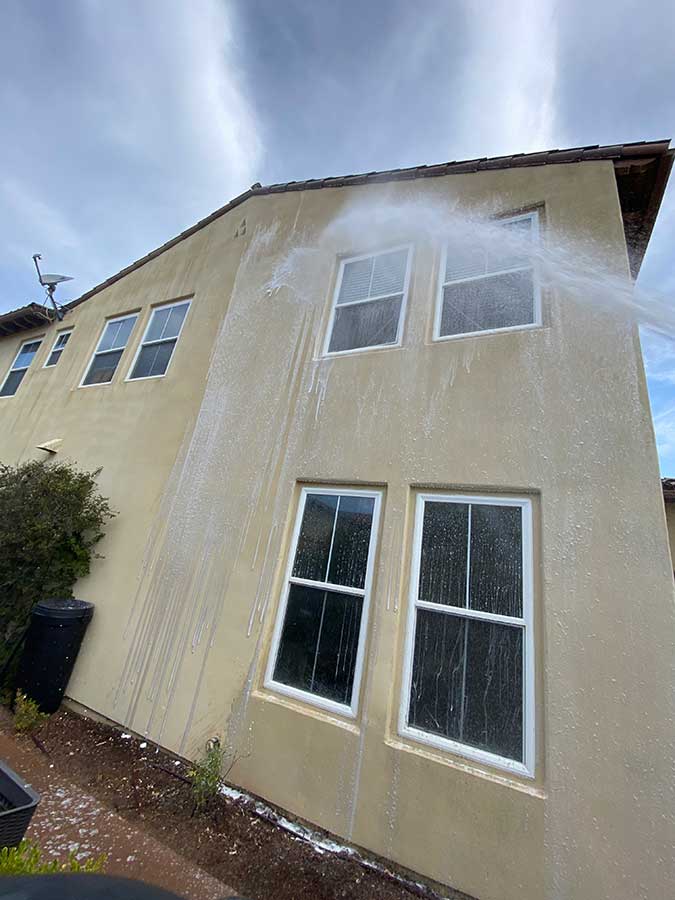 Are you looking for the ultimate in spotless siding? Call Northman Exteriors today for San Diego stucco cleaning you can be proud of! You'll love the way we free your home's stucco from eyesores like dirt and mildew. Not only does it enhance curb appeal, but it also helps extend your siding's lifespan by eliminating harmful organic growth. Whether you need a big-time clean or just a small touch-up, we're the contractor for you. Call us now for a free consultation!
If you own or manage a San Diego business that has stucco siding, consider us your pressure washing specialists. We can clean the exteriors of your storefront, restaurant, or office building and make them look fantastic. When we do stucco cleaning, we follow some general guidelines, depending on how dirty the surface is. Read about them below.
First, we prepare the surrounding property. This includes watering the plants to dilute the environmentally friendly cleaners even more.
Next, we apply the cleaner and water mix to the stucco. We use the lowest amount that can get the job done, so we don't have excess runoff.
After letting the cleaner dwell and work its magic, we gently rinse it away.
Finally, we spot clean any stubborn areas to reveal a wonderfully revitalized home or business.
Interested in a free consultation? Call us today to get started! You might also be interested in our regularly scheduled cleanings to stay ahead of the dust and grime. Experts recommend yearly service for stucco cleaning. Schedule it ahead of time with Northman Exteriors, so you don't ever have to worry about having sub-par looks for your stucco siding.
Got a building with a different siding? No problem! Besides stucco cleaning, we perform all manner of house washing for homes and businesses. You'll be amazed at how clean your building looks when we're finished. Vinyl looks brighter. Metal shines more brilliantly. Wood siding looks restored. No matter what type of siding you have on your building, we'll bring out its best. Call us today!
If you've got a lot to clean, let us handle the tough jobs! Some places should be cleaned by the pros not just because they'll look better but for safety concerns as well. For example, roof cleaning poses lots of challenges. Ladders require a flat base to be used properly, and while all cleaning should be done from the ladder if possible, sometimes, this isn't feasible. That means you'll have to walk on the roof's wet surfaces, which can obviously be hazardous.
Overhead lines are another safety issue. Be careful moving around aluminum ladders or other metal tools. You could potentially cause an injury if they come in contact with utility lines while you're moving them around. Also, falls aren't limited to the roof. Slips and falls are a concern for driveway cleaning, which is why it's best to go with someone experienced. Besides harm to your person, there's also the possibility of accidentally damaging a surface while cleaning.
For example, concrete looks tough (and it is), but even a concrete hardtop can be punctured by using too much pressure, selecting the wrong nozzle, or lingering on one spot for too long. To avoid all of these issues, go with pros who know the best way to clean any surface, no matter how tough or delicate. Call Northman Exteriors today to get started!
Our Latest

Articles & Tips
Why You Need to Get Your Solar Panels Cleaned

Just like a car or a boat that's well maintained and serviced regularly, our windows need to be clear and clean as well. The same goes for the way we approach solar panels. When we maintain our solar panels in excellent condition, they'll perform at their […]

How To Clean Stucco

Stucco is a classic mainstay of San Diego architecture for homes and businesses. It's a strong, versatile material that holds up well with proper maintenance. If you'd like to get your stucco back to peak form, keep reading for how to clean stucco. Pressure washing is the […]