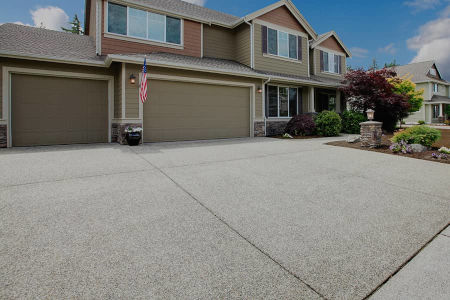 It's that time of year again. If your Carmel Valley home is ready for pressure washing, call Northman Exteriors for the best in the business. You'll love what our expert cleaning can do to revitalize your windows, driveways, decks, and more. Not only will your surfaces look spectacular, but they'll also last longer because cleaning removes harmful organic growth. For a big-time clean you'll be proud of, call Northman Exteriors today.
Carmel Valley is a great place to live, work, and play. With modern homes and easy access to the rest of San Diego, it's no wonder that people choose to own a home or business here. In order to keep your local property looking its best, use pressure washing for those hard-to-reach jobs and everything else. From rooftop to sidewalk, you'll love the results.
We get Carmel Valley homes to the next level of clean with our pressure washing.
Here are just some of the ways we can revitalize your home or business with pressure washing and more:
Roof cleaning: A soft wash is the cure for a dirty roof. Ask about our annual cleanings to keep it looking great and free from harmful growths.
Solar panel cleaning: This gets rid of grime and debris that prevents your solar cells from receiving the maximum amount of sunlight.
Driveway cleaning: Our driveway cleaning will eliminate oil stains and other marks so you can pull up to your house in style.
We can also clean and seal your concrete pavers for a beautiful finish on your paver walkway or patio. Ready to get started? Call Northman Exteriors today and prepare to be amazed.
Window cleaning can make your Carmel Valley home even more special!
Nothing says home sweet home like crystal clear windows, and nothing catches a customer's eye more than clean windows on a storefront. No matter how big your Carmel Valley windows are, Northman Exteriors can get them sparkling. The secret lies in our no-pressure wash. You'll be amazed at what a difference clean windows make. Call us today for a free quote.
Want to keep things dazzling all year long? Schedule regular cleanings for your windows or any other part of your house so you won't have to worry about dust and mold build-up. Call us today to see how often your different surfaces should be serviced.
When it comes to choosing a pressure washing specialist, make sure you pick one with good reviews and even better customer service. At Northman Exteriors, we pride ourselves on helping Carmel Valley look its best. Some of the reasons why we're the #1 choice include:
Experience: We know the right settings and the right cleaners to use for every exterior.
Versatility: In just one session, we can clean different parts of your home, no matter how delicate or heavy-duty.
Safety: Ladders, overhead lines, and other safety concerns are issues best left to pros like us.
Results: You'll love the way we clean your home or business.
In addition, if you've got custom stonework or other special requests, just let us know! You'd be surprised at how many applications a pressure washer is good for. From a gentle, fanning soft wash to controlled high pressure, it can safely eliminate even the toughest of stains. For a free quote, call Northman Exteriors today.
Reviews & Testimonials on Northman Exteriors in Carmel Valley, CA
There are currently no reviews or testimonials, check back soon!
Our Latest

Articles & Tips
Why You Need to Get Your Solar Panels Cleaned

Just like a car or a boat that's well maintained and serviced regularly, our windows need to be clear and clean as well. The same goes for the way we approach solar panels. When we maintain our solar […]

How To Clean Stucco

Stucco is a classic mainstay of San Diego architecture for homes and businesses. It's a strong, versatile material that holds up well with proper maintenance. If you'd like to get your stucco back to […]