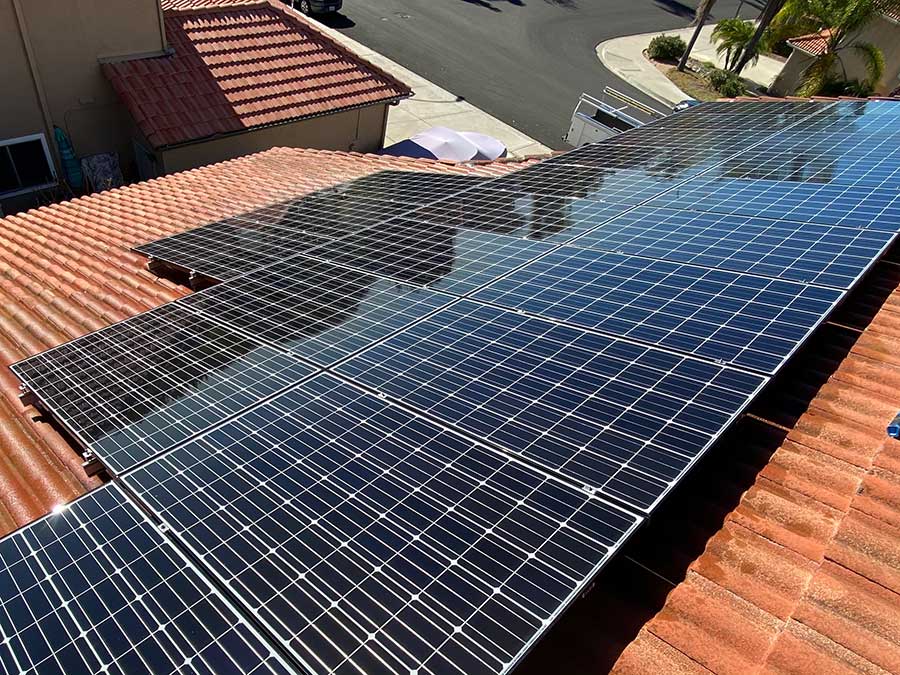 The time for getting your solar panels spotlessly clean has arrived! Call Northman Exteriors today for solar panel cleaning in San Diego. Clean solar panels draw the eye and boost curb appeal while also generating more solar energy. Plus, they last longer because it gets rid of damaging organic growth. Are you ready to see how clean we can get your solar panels? Call us today for a free consultation.
Solar panels are an earth-friendly way to save on your power bill. Experts recommend regular washing to ensure as much light as possible reaches the solar cells, especially in a region like San Diego that gets so little rain. For the best results, get reliable cleaning for your solar panels every six months. Our solar panel cleaning service uses deionized water and a reverse osmosis purified water system to clean your solar panels. This keeps them running in perfect order and enhances their appearance. Ask Northman Exteriors today about scheduling your solar panel cleaning.
Are you ready to get every detail of your property spotless? Then take a look at some of our other services besides solar panel cleaning:
Roof cleaning: Got a clay tile roof? We'll soft wash it to perfection. We can also clean asphalt shingles and more for homes and businesses alike.
Driveway cleaning: Arrive in style with a freshly cleaned driveway. We remove oil stains, tire marks, and other blemishes from driveways and parking lots.
Storefront cleaning: Own or manage a building? Let us get it looking amazing in time for opening.
And more. One of our most popular services is window cleaning. It's an excellent way to keep your windows dazzling. We do it by soft washing the panes and exterior frame, removing pollen, dust, and mildew for a glimmering finish you can be proud of. Whereas experts recommend solar panel cleaning every six months, you should clean windows more frequently. Every month or two is optimum, since then your windows never have a chance to get too dirty. Want to know more? Call Northman Exteriors today!
San Diego's a beautiful place to live, but the climate can be tough on home and business exteriors. The wind, dust, and pollen accumulate quickly, so make sure things stay in top shape with professional solar panel cleaning. Has it been a few years since things have been properly cleaned? At Northman Exteriors, we love tackling those heavy-duty jobs to show what a difference an expert washing can make. Homes, office complexes, restaurants, and more all look great after a visit from our cleaning pros, so call us today!
When hiring a contractor, make sure they know how to clean your particular surface. Pressure washing is a powerful tool, but it does require some know-how to use properly and safely. Also, make sure you're happy with their customer service. They should be able to answer any questions you have and know best how to maximize the look of your home or business. Look at their projects on their website gallery or Facebook page. For solar panel cleaning and other services by San Diego experts whose results speak for themselves, call Northman Exteriors today!
Our Latest

Articles & Tips
Why You Need to Get Your Solar Panels Cleaned

Just like a car or a boat that's well maintained and serviced regularly, our windows need to be clear and clean as well. The same goes for the way we approach solar panels. When we maintain our solar panels in excellent condition, they'll perform at their […]

How To Clean Stucco

Stucco is a classic mainstay of San Diego architecture for homes and businesses. It's a strong, versatile material that holds up well with proper maintenance. If you'd like to get your stucco back to peak form, keep reading for how to clean stucco. Pressure washing is the […]