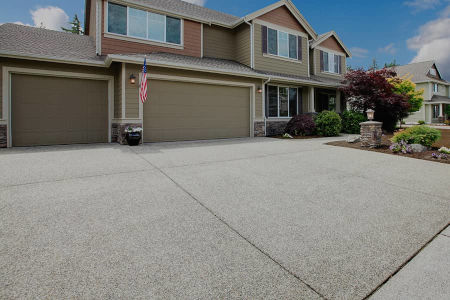 Are you in Spring Valley looking for pressure washing? Northman Exteriors is here to serve you. We offer a wide range of pressure washing, ranging from soft washing to concrete cleaning. We can also seal paver stones and clean roofs. Whether you own a home or business here, you'll love the difference our service makes. Call us today for a free consultation!
Spring Valley is a great place to live, but we do get our share of hot weather. The dust, wind, and lack of rain all add up to a combination of dingy windows and siding. Solar panels also get dirtier, lessening the amount of sunlight the cells receive. For top-rated solutions to all these problems, call Northman Exteriors today for Spring Valley pressure washing. It renews driveways, restores pavers, and boosts your property's curb appeal. Call us today to get started.
Let our Spring Valley pressure washing give your home or business a majestic clean.
Here are some of the services we offer:
Soft Washing: Clay roof tiles, windows, asphalt shingles, and other surfaces require soft washing to properly clean. It's like hand washing but a lot faster.
Paver Cleaning and Sealing: Don't miss out on our paver sealing. It keeps out water and debris for up to five years, so your paver stones stay beautiful.
Stucco Cleaning: The classic look of a San Diego stucco home can be restored with our stucco cleaning. Trust us to get rid of pesky mold and mildew.
Storefront Cleaning: Getting ready to open for business? We can help put things in tip-top shape, from a clean entryway to a sparkling display window.
And more. If you've got a cleaning project in mind, call us, and we'll discuss your options! We love helping our Spring Valley community look its best.
Call us today for Spring Valley window cleaning that's the best in the business.
If you own a restaurant, office building, or other business in Spring Valley, you'll be happy to know that we provide the best window cleaning in the area. We use soft washing to get windows amazingly clean. Not only will smudges and pollen disappear from the glass, but the exterior frames will also be rid of mildew and other impurities. You'll love what an eye-catching difference it makes for guests and passersby!
Got a storefront display? We'll get the windows clean so people will have the best view possible of your featured products. Manage a restaurant? Give your best tables the views they deserve with spotless windows. We have the right tools for accessing most of the hardest to reach commercial windows, so give us a call to learn more.
Part of our mission at Northman Exteriors to provide the best customer service possible. We always put 100% towards every project we do, and we do whatever it takes to leave our clients satisfied. If you're happy with the initial cleaning, consider regularly scheduled service so that your Spring Valley property looks great all year round. Want a free consultation? Give Northman Exteriors a call today.
Reviews & Testimonials on Northman Exteriors in Spring Valley, CA
There are currently no reviews or testimonials, check back soon!
Our Latest

Articles & Tips
Why You Need to Get Your Solar Panels Cleaned

Just like a car or a boat that's well maintained and serviced regularly, our windows need to be clear and clean as well. The same goes for the way we approach solar panels. When we maintain our solar […]

How To Clean Stucco

Stucco is a classic mainstay of San Diego architecture for homes and businesses. It's a strong, versatile material that holds up well with proper maintenance. If you'd like to get your stucco back to […]