When you want your property to look the best, there's nothing like a freshly washed house. If you're ready to see how house washing can revitalize your San Diego home, call Northman Exteriors today for a free consultation! No matter what type of home or business you have, house washing can get rid of mildew, tree debris, and more. Our expert cleaning beautifies your surfaces while eliminating harmful organic growth. It's the #1 way to make your place spotless and protect your investment. Ready for a free consultation? Call us today!
Your home is more than a castle - it's a place to welcome friends and family! House washing makes your home look its best for entertaining, working, or just simply relaxing. But what exactly is house washing? Typically, it means cleaning a building's siding, windows, doorways, and anything else between the eaves and foundation. It's a multi-sided cleaning option that gives dirt, pollen, and mildew the boot.
The best choice for house washing is a professional service with a good reputation and fantastic results. When you go with the pressure washing pros at Northman Exteriors, you're getting all this and more:
Great customer service: We put your needs first and always make sure we know exactly what you want before we begin.
Equipment: As a professional contractor, we bring all our own supplies, so there's nothing to buy or rent.
Efficiency: We'll complete your project in a timely manner so you can enjoy the view.
Environmentally friendly: Pressure washing typically uses much less water than other options, such as a garden hose.
Plus, when you go with the best, you'll have the peace of mind knowing your property will dazzle like no others. Ready to get started? Call Northman Exteriors today for a free quote.
We offer many other services besides house washing. If you'd like to get the top of your home as clean as the sides, you may like our roof cleaning. It gets rid of dirt and organic growth before they have a chance to weaken your shingles or other surfaces. We use a variety of cleaning methods, depending on the roof type. Roof shingles and clay tiles require soft washing, a type of no-pressure washing, while metal roofs and some other kinds can handle traditional pressure washing. Whether you have a residential or commercial roof, we can clean it, so call us today!
When it comes to roof cleaning, one of the biggest benefits of choosing a professional contractor is safety. Roof work can be hazardous. Not only is there the danger of falls, but overhead lines need to be carefully avoided. Ladder safety is key for both of these reasons. Also, you have to be careful not to damage the areas you clean. For instance, you have to be extremely cautious when walking on clay tiles, or you can crack them. The best thing to do is let the pros handle everything, so you'll have peace of mind that the job's done securely and correctly. Northman Exteriors is your top choice for roof cleaning, house washing, and other services, so call us today!
---
Latest Projects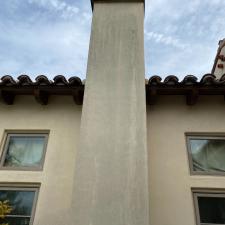 Often you will find mildew or algae in specific areas around your home. Specifically shaded areas or areas surrounded by plants or palm trees. Little do homeowners know that this type of bacteria can cause permanent damage and discoloration to your stucco house! That's why it's […]
Our Latest

Articles & Tips
Why You Need to Get Your Solar Panels Cleaned

Just like a car or a boat that's well maintained and serviced regularly, our windows need to be clear and clean as well. The same goes for the way we approach solar panels. When we maintain our solar panels in excellent condition, they'll perform at their […]

How To Clean Stucco

Stucco is a classic mainstay of San Diego architecture for homes and businesses. It's a strong, versatile material that holds up well with proper maintenance. If you'd like to get your stucco back to peak form, keep reading for how to clean stucco. Pressure washing is the […]