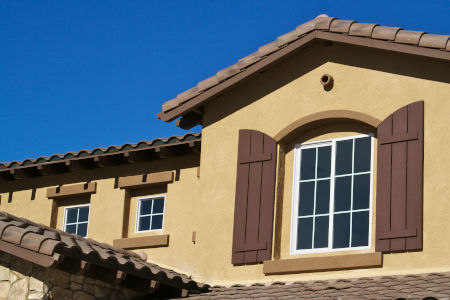 Stucco is a classic mainstay of San Diego architecture for homes and businesses. It's a strong, versatile material that holds up well with proper maintenance. If you'd like to get your stucco back to peak form, keep reading for how to clean stucco.
Step One: Property Prep
Pressure washing is the best way to clean stucco, so step one should be property preparation in order to protect landscaping from excessive cleaner runoff. The best way to do this is to dilute plants and shrubs that are directly underneath walls and overhangs. Spray them the same way you do when watering them. Some plants should be watered more. A general rule of thumb is that plants with thin leaves should get more water, but check a trusted resource first, so you don't oversaturate anything.
Step Two: Soft Wash
Next, attach your environmentally friendly cleaner to your pressure washer and begin applying it. Use thin, overlapping layers to lay down one full coat on the surface. Resist the urge to apply extra mix to areas that are especially dirty. Let the cleaner do its work. Typically, you'll want to let it dwell for about 40 minutes. If, after that time, some spots are still dirty, apply one more layer to that area.
Step Three: Rinsing
Rinse off your surfaces with low pressure. You'll start to see what a difference a good pressure washing can make for your home or business. If you've decided to clean your windows along with the stucco, they'll be crystal clear, too.
Step Four: Stubborn Spots
After rinsing, you might notice some particularly tough sections that still aren't spotless. Apply a specially made cleaner to these portions, following the instructions for dwell time and rinsing.
Step Five: Enjoy Your Clean Surface
Cleaning stucco this way is called soft washing, and it's easy to see why it's such a popular choice. It gets rid of mildew, grime, and other contaminants when done correctly. If you'd like to have a top-rated professional clean your stucco, call Northman Exteriors. We're the best in the business at soft washing and other services because we've got quality results and we always put the customer first.
We're #1 for cleaning stucco and other services. Call Northman Exteriors today to get started.
Besides stucco, we can also wash vinyl, metal, and other types of siding. Need roof cleaning? Cleaning stucco can really be a difficult project to do on your own. Because of this, you may want a professional stucco cleaning company to help. We can do that, too, including clay tiles. If you've got a cleaning project in mind, let us know, and we'll provide you with a free consultation. There's nothing like a freshly cleaned home or business for boosting curb appeal, so call us today to get started.
Want to keep things clean all year long? We can wash your stucco on a regular schedule, so you never again have to worry about stains accumulating. Other surfaces also benefit from regular cleaning. Windows look fantastic when their exteriors are cleaned every month. Roofs stay in their best shape when cleaned yearly. Sidewalks can be cleaned as often as you'd like, depending on foot traffic and other factors. Want a one-time clean to see what a difference it can make before you decide? We can do that, too! Call Northman Exteriors today for regular service and other pressure washing and soft washing needs. We can't wait to hear from you!
Our Latest

Articles & Tips
Why You Need to Get Your Solar Panels Cleaned

Just like a car or a boat that's well maintained and serviced regularly, our windows need to be clear and clean as well. The same goes for the way we approach solar panels. When we maintain our solar panels in excellent condition, they'll perform at their […]

How To Clean Stucco

Stucco is a classic mainstay of San Diego architecture for homes and businesses. It's a strong, versatile material that holds up well with proper maintenance. If you'd like to get your stucco back to peak form, keep reading for how to clean stucco. Pressure washing is the […]