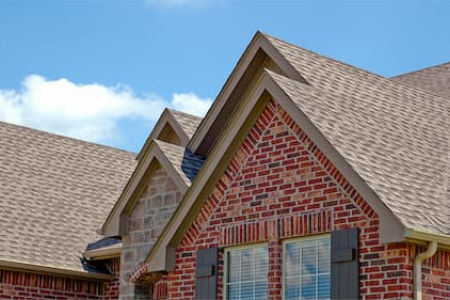 Is it time to clean your roof? If you see stains or organic growth, then yes, it is. If it looks decent but hasn't been washed in a couple of years, you should still clean it. There might be nooks and crannies where grime is accumulating. Asphalt shingles, clay tiles, slate shingles, and more should all be cleaned via soft wash. Soft wash is a form of pressure washing that's gentle and thorough. Keep reading for a step-by-step guide on how to soft wash a roof.
1. Prepare the rest of the property
The first step is preparation. Walk around your building and water the plants underneath the roof's edge. This will dilute any solution that falls down during the cleaning process. A general rule of thumb is that plants with thin leaves should get extra water during this step. Also, if any of the plants are in potters, go ahead and move them.
2. Set your ladder
Be careful of overhead lines while you're moving your ladder. Set it on a flat surface. If it's an extension ladder, be sure not to lean it directly on the gutter. When it's time to apply the cleaner to the roof, you should work from the ladder if you can. If you do have to walk on the roof, be sure to use the proper safety gear.
3. Apply the cleaner
There are several kinds of cleaners, so choose the one right for your roof. For instance, steep roofs need a cleaner that sticks well and doesn't run down quickly. Next, fill the reservoir for the pressure washer pump and select a fan-spraying nozzle. You want a fan spray because it uses less cleaner while covering more area. Since you only need a thin layer, this works perfectly.
Starting from the top of the roof, spray in overlapping arcs until you've covered the whole surface. Resist the temptation to apply more spray to areas with heavier stains. Let the cleaner do its work. Check it again after 40 minutes, and if it's still dirty, you can apply another thin layer of cleaner.
After this, you can leave it for the next rain to wash away. Or you can wait 24 hours and rinse the roof with water. You might notice white clumps being washed away - this is from the cleaner killing mold.
Get the best in soft washing for your San Diego roof by calling Northman Exteriors today.
If all this sounds like a job you'd rather leave to roof cleaning pros who know best how to soft wash a roof, call Northman Exteriors today. We can soft wash and low-pressure wash any type of roof you have, from tile to single-membrane. Want to get the rest of your property in top shape while you're at it? Ask us about our driveway cleaning. This type of pressure washing is the best way to eliminate oil stains and tire marks from driveways and parking spots. We offer lots of other services, too, so if you're ready to get your San Diego home or business clean, then call Northman Exteriors today for a free quote.
Our Latest

Articles & Tips
Why You Need to Get Your Solar Panels Cleaned

Just like a car or a boat that's well maintained and serviced regularly, our windows need to be clear and clean as well. The same goes for the way we approach solar panels. When we maintain our solar panels in excellent condition, they'll perform at their […]

How To Clean Stucco

Stucco is a classic mainstay of San Diego architecture for homes and businesses. It's a strong, versatile material that holds up well with proper maintenance. If you'd like to get your stucco back to peak form, keep reading for how to clean stucco. Pressure washing is the […]